FarmFacts and leading machinery manufacturers expand NEXT Machine Management to include live telemetry data
Pfarrkirchen, Germany, 15/07/2020 – FarmFacts GmbH, a full subsidiary of BayWa AG, has collaborated with leading farm machinery manufacturers AGCO (Fendt, Massey Ferguson, Valtra), Krone, Kuhn, Lemken, Rauch and Pöttinger to develop a system for exchanging data across a wide range of machinery and automating documentation. NEXT Machine Management presents farmers and agricultural contractors with brand new opportunities by transmitting data across manufacturers and integrating key machinery data into its NEXT Farming LIVE cloud-based farm management system. This has created a fully comprehensive solution for all farm sizes and mixed fleets.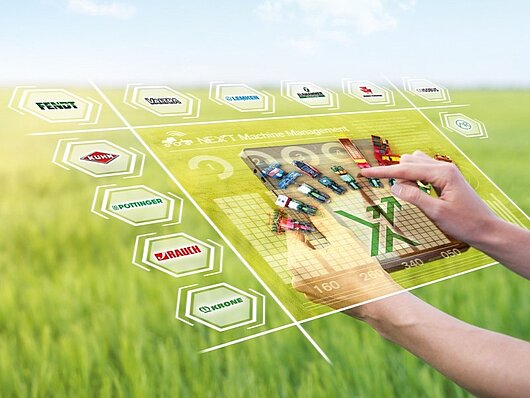 NEXT Machine Management uses the data transmitted via the agrirouter to facilitate planning, production and documentation processes using machines from different manufacturers. The module can be used with any machine that is connected to the agrirouter. New features have now been added to NEXT Machine Management: A telemetry solution that enables farm managers to track the location of their machinery in real time – provided is it suitably equipped – and to gain visibility of the latest machine data such as current consumption, throughput or spread rate. This makes it easier to allocate machines to jobs and in turn to utilise the entire fleet more efficiently and monitor processes professionally.
Aside from this, some additional improvements have been made to the existing software, which will enable farmers and agricultural contractors to save even more time on documentation tasks. Detailed reports on field work in line with legal provisions can now be generated even faster at the touch of a button.
Jobs can be sent easily to machines, which enables optimum capacity utilisation and effective farm management. A particular highlight is the option to transmit prescription maps or waylines for GPS steering systems to machines in order to farm fields site-specifically.
Farmers can plan activities in the office then send them to the machine terminal – regardless of the machine's manufacturer, type or location – and use the transmitted machine data to automatically document activities on the field. The documentation data such as time and location, or parameters such as speed of travel, diesel usage and spread rates (e.g. fertiliser or plant protection products) are automatically recorded and documented in the farmer's NEXT Farming LIVE account. As with all NEXT Farming modules, any data that is recorded belongs exclusively to the account owner – it will not be passed onto any third parties without their consent.
FarmFacts
As farmers and developers with a strong affinity to both agriculture and IT, we have been programming farm software since 1985.
As a result of its innovative products and complementary services under the NEXT Farming brand, FarmFacts has become a market leader.
Editorial department:
FarmFacts GmbH
Christin Klar
Telephone: +49 8561 9999 145
Email: presse@farmfacts.de