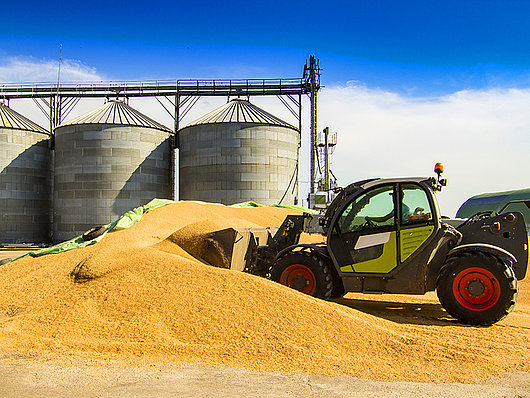 Storage management made easy
A day-to-day storage evaluation and precise overview of your storage capacities, products, and so on, form the basis of successful farm management. How much diesel is there left in the tank? How much silage is left in the silo? Will our seed, fertiliser and plant protection products be enough to cover upcoming activities? These questions and many more are of paramount importance to your daily planning. With the NEXT Storage Management software package, you can keep a watchful eye on your storage facilities. To get started, all you need to do is to allocate your products. Post quick and clear updates on purchases, sales, inventory, storage and removals to receive an instant overview of all your stock and its value.
What's really handy: the programme's direct connection to the field card index enables you to generate storage updates automatically during harvest or any activity involving consumption. You don't even need to press a button. If the data comes from the on-board computer or the app, it is saved to the warehouse straight away.
What does it come down to?
Master data for warehouses, stored products and batches
Storage facilities including farm allocation, storage monitoring and minimum stock levels
Inventory evaluations and cross-facility updates, storage documents, part lists and product evaluations
Warehouse protection, cleaning and drying
Ability to post storage updates remotely via web browser
Simple post creation and editing, master data price link
Direct connection to the field card index
Batch management
Weighing device connection
Load tracking and overviews
Tank System Connection (Tecalemit)
Choose the right product for you:
| | |
| --- | --- |
| | |
| | Go to product |
| | Comprehensive, professional solutions for farmers |
| Create/edit/delete warehouses | |
| Farm allocation (multi-farm capability) | |
| Connect warehouse contents to master data | |
| Connection to material flow balancing | |
| Create batches | |
| Create reference samples | |
| Storage posts directly from the activity | |
| Various evaluations | |
| Warehouse connectivity: Data transmission from filling stations | |
| Weighing data imports | |
| Software solution | NEXT Farming AG Office |
| Technology | Desktop software with online connectivity |
| | Go to product |