Lease and area management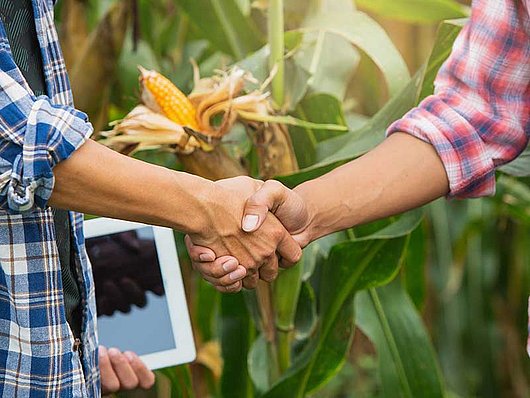 Manage all your contracts and own land using runtime control, right through to creating a bank payment file.
Manage all your lease agreements, exchange agreements, licence agreements, subleases and leases, and even your own land, in one single user interface. The contract management function is directly linked to the cadastre register (land register), which can also be integrated into your field management function. The runtime control feature provides you with an accurate overview of all contract terms on a given date. Generate lease payments and other payments to your landlord(s) according to your agreement terms. The programme assists you right through to creating a bank payment (SEPA). What's more, the integrated word processing module helps you to draw up contracts and appendices.
The standard letter functionality enables you to correspond easily with your contract partners. It is also possible to tap into ALB/ALK and ALKIS® data from land surveys, which enables you to visualise your registered land parcels and incorporate your software's GIS module into the Lease and Area Management feature. Visualise your land owners and contract partners in relation to their fields and aerial imagery. This means you always have an overview of the registered land parcels in your region. NEXT Lease and Area Management can also be combined with NEXT GIS. This enables you to see a clear overview of all your fields.
What does it come down to?
Manage all your lease agreements
Manage all your exchange and licence agreements
Sublease agreement
Runtime control
Payment management right through to creating a bank payment (SEPA)
Land parcel details and allocation to lease agreements
Management of own land
Connection to land register data – ALKIS® import and comparison
Contract editor including templates
Correspondence via standard letters
Import and export of all relevant data
Connection to NEXT GIS
Cadastre (land register) overview
Up-to-date lease agreement template
Manage payment dates
Manage lease payments
Document management