Plant protection assistant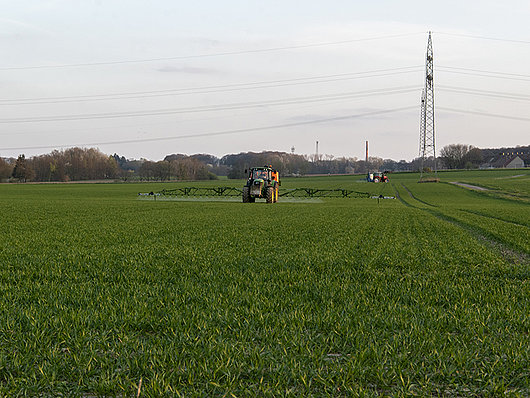 Because healthy plants help ensure your success
Successful plant protection management starts with recording disease and pest pressure, and also includes planning and documenting your activities.
On the basis of weather pattern analyses recorded by the weather station or optionally a plant growth model, you can easily generate forecasts on the latest disease pressure and plant protection impact conditions. The ideal decision-making basis for spreading plant protection products.
Using satellite remote sensing data (TalkingFields maps), you can also create prescription maps to ensure your plant protection product spreading activities are optimised for crop production. The NEXT GreenSeeker package also enables you to spread plant protection products site-specifically, thus adapting precisely to differences in biomass within your crop. Use it to optimise your use of valuable plant protection products and prevent resistance from building. For added efficiency and sustainability.
What does it come down to?
Cross-compliant documentation
Comprehensive master data
Utilise materials efficiently
Plant protection impact conditions (Delta T)
Integration of various sensor processes (weather station, satellite data, plant sensor)
Choose the right product for you:
| | | |
| --- | --- | --- |
| | | |
| | | Find out more |
| | Easy entry into Smart Farming | Comprehensive, professional solutions for farmers |
| Cross-compliant documentation incl. comment field | | |
| Tank mix calculator | | |
| Weather station interface | | |
| xarvio application timer integration | | |
| Prescription map creation | | |
| Pre-harvest interval (PHI) | | |
| Advice on maximum permissible application rate and warning notices (danger to bees, distance requirements) | | |
| Active substance recording and end of permit warning | | |
| Software solution | NEXT Farming Live | NEXT Farming AG Office |
| Technology | Online software | Desktop software with online connectivity |
| | | Find out more |