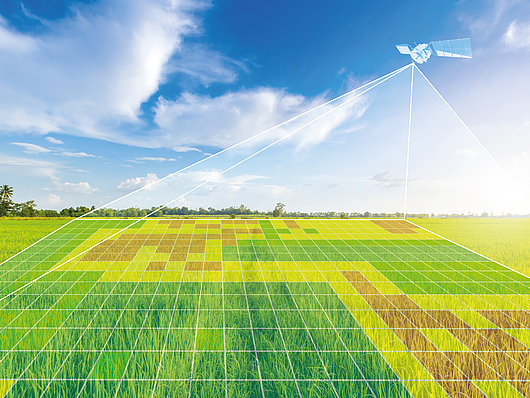 Remote sensing and official GIS data for all your fields
Scarcely any field is homogeneous. Satellite remote sensing data enables you to capture the heterogeneity of long-term growth conditions as well as the current status of your crop's development. This gives you an ideal basis for complex decision-making processes. Optimise your soil sampling plan and use it to analyse the underlying reasons for heterogeneity. Plan your sowing, fertilisation and plant protection measures site-specifically and, as such, reduce competition pressure among plants, increase nutrient and water utilisation, and reduce the risk of losses. Satellite data plays a pivotal role in farming your land site-specifically.
What does it come down to?
Overview of the heterogeneity of long-term growth conditions within your fields
Optimised execution of sowing, plant protection and fertilisation activities based on objective data
Utilise materials efficiently
Track crop development
Verify the success of your management initiatives
Optimise financial planning
ALKIS ® data
Digital soil type map
Usable field capacity
Digital orthophotos, soil map and farm map