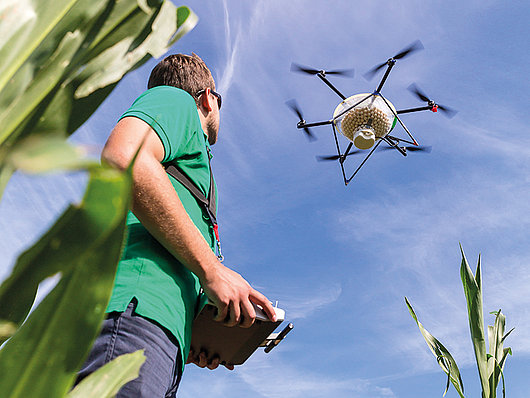 Drone services and UAV systems for agriculture and forestry
Whether you are looking to combat pests with the help of our multicopters or you want to create aerial imagery and video footage of your farmland, we can support you in your plans. Our specially trained team members are happy to advise you and demonstrate the diverse areas of application for our multicopters. We are happy to provide a custom quotation or advise on purchasing your own drone.
Damage assessment from the air
NIR flights
Aerial imagery and video footage
Determination of field sections
Fawn rescuing
Identification of weak spots on a solar roof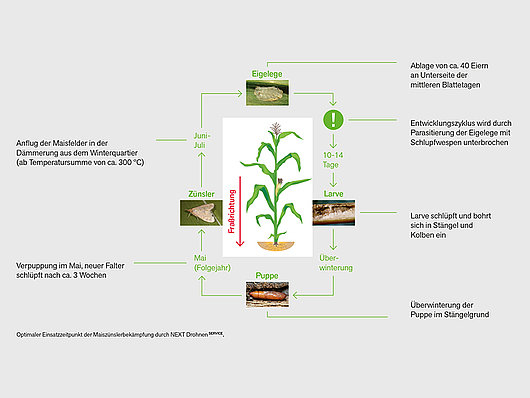 When growing maize, European corn borers can cause serious commercial damage. Infestations of the European corn borer have risen sharply in Germany over the past few years. Not only is the volume of infested land increasing, the intensity per plot is also continually on the rise. Almost all areas under cultivation are affected. With the help of our multicopters, NEXT Farming offers an innovative and effective pest control solution based on spreading beneficial organisms (trichogramma wasps). With the help of our multicopters, we fly over your maize fields twice during the period of infestation, with 10-14 days in between. The multicopters spread 100 capsules containing trichogramma wasps onto the field at regular intervals. The wasps parasitise the eggs laid by the European corn borers, which effectively combats them while protecting the environment. This safeguards your maize yield as well as the quality of the harvested material. It also effectively reduces the European corn borer population the following year.
Contact
NEXT Drones
+49 5671 5003 35
drohne@nextfarming.de