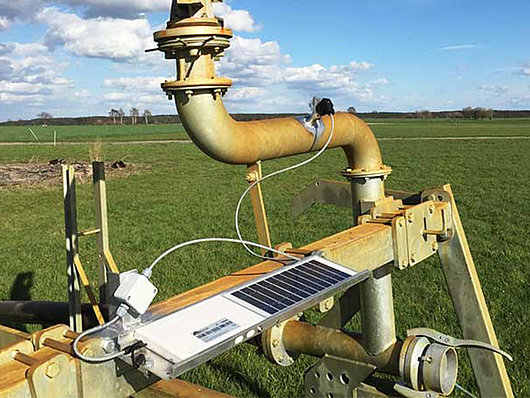 Control and monitoring for your irrigation system via smartphone or PC
NEXT raindancer enables you to monitor and control all your irrigation systems from your smartphone or PC. NEXT raindancer documents and continually transmits the current position and water pressure to the server via a mobile phone signal. If any problems arise, you receive an SMS alert and can stop the system via the app. This enables you to reduce potential damage and eliminates unnecessary time spent monitoring in person.
The AutoSpeed function of the NEXT raindancer independently regulates the inflow rate of the reeler. This enables the water volume per square metre to remain constant throughout the entire irrigation cycle so that your field is irrigated evenly.
At the same time, each irrigation cycle is automatically recorded and documented in the field. As a result, your water diary is ready at the touch of a button.

Contact us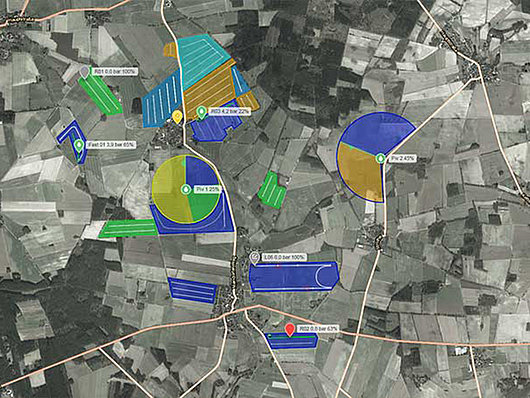 Real-time irrigation system monitoring
Flexible evaluation options
Usage and implementation planning
Irrigation requirement calculation
Fault messaging service
Remote control and site-specific irrigation options
Automatic inflow rate control
Automatic recording and documentation
Can be upgraded for hose reel, lateral move and centre pivot irrigation systems, regardless of manufacturer
NEXT raindancer section control
The section control function automatically sets the angle of the sprinkler gun, which enables your fields to be fully and precisely irrigated. The optimum spraying angle is calculated using the field boundary and sprinkler range data stored in the system. This means you can irrigate the entire field without any gaps or overlapping.
The raindancer Pro module is required in order to use NEXT raindancer section control.
Complete and even field irrigation
Avoids gaps and overlaps
Automatically avoids obstacles
Irrigates right up to the field boundary
Manual operating mode with remote control via the app
No pre-irrigation necessary
The Beacon is a pump control unit that can be retrofitted to all major electric pumps. All the key parameters and performance data are delivered straight to your smartphone and PC in real time. At the same time, you can also start and stop the pump from within the app, or adjust the pressure via remote control. If a fault occurs, a notification is delivered straight to your smartphone. When the NEXT raindancer module is connected to the raindancer Beacon, it intelligently processes the sprinkler pressure information and enables your pump to be controlled automatically.
Features
Remote monitoring and control of electric pumps
Timely fault messaging
Energy is conserved thanks to optimised pump performance
We are happy to advise you personally based on your requirements and needs.
Simply fill in the enquiry form and a local agent will be in contact with you soon.
The boxes marked * are compulsory