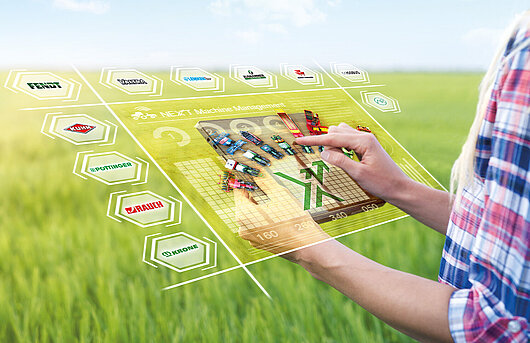 NEXT Machine Management
Simply good.
How to connect your machine data across manufacturers.
NEXT Machine Management networks your mixed fleet - simply, intelligently and efficiently. With just a few clicks, you can take care of action planning, data transfer or task documentation. All this works across all manufacturers with all data of your mixed fleet.
Did you already know? NEXT Machine Management was developed in cooperation with Fendt, Krone, Kuhn, Lemken, Massey Ferguson, Pöttinger, Rauch, Valtra and Zunhammer. During development, we have not only incorporated the latest approaches, but also the experience of the manufacturers. And that's not all: as we are developing our solution constantly, you are the first to benefit from new innovations.
A software that knows your needs.
Your advantages at a glance:
You get precise and automatic documentation using machine data - even without prior task planning.
Can be used with existing precision farming technology (SC,VRC, ISOBUS)
You save time in the office - because NEXT Machine Management works quickly and efficiently.
A wide range of evaluation options - just as you need it
NEXT Machine Management is not an isolated solution - you use the data directly in your farm management system.
Different machines equal many software solutions? NEXT Machine Management puts an end to that
You always have an overview of machine data and position
One interface, maximum flexibility.
To network NEXT Machine Management with your fleet, you need the agrirouter interface. Agrirouter convinces with its particularly simple and intuitive operation.
Do you have older machines in your fleet? That's no problem either. With the help of a USB stick, you can also network older machines with the system.
Your NEXT Machine Management, multiple possibilities.
NEXT Machine Management is the interface from your machines to the punch file for collecting, documenting and analysing all machine data. The list of data possibilities? Long!
But see for yourself:
Automatic, convenient and complete documentation using machine data - even without planning in advance!
Send master data, planned tasks, prescription maps and guidance informations to connected machines.
Receive machine data
Visualise your machine data
Evaluate received data
Exchange guidance informations with other machines
Real-time view of your active machines
Create master data from machine data
agrirouter ensures wireless data exchange in real time
Interaction with other modules:
Interaction with other modules
Simple job planning (possible free of charge)
Efficient documentation of measures (possible free of charge)
Produce Evaluations (CC proof, cultivation documentation)
Create prescription maps
Create guidance lines (AB-Lines)
Determine costs and revenues
You want to know more about NEXT Machine Management?
We will be happy to advise you individually according to your requirements and needs.
Simply fill out the enquiry form and we will get in touch with you as soon as possible.