Sensor-controlled farming
Fertilisation and plant protection with NEXT GreenSeeker – site-specific, economical and environmentally sound.
The aim of applying fertiliser and plant protection products is to constantly secure high yields with low inputs. Farming site-specifically enables you to achieve this even while taking into account the differences in your field. We'll show you how it works.
While you drive over the field, NEXT GreenSeeker determines the vitality and biomass differences in the crop. Even very small deviations are reliably identified using our active system with its own light source. The quality of the crop analysis can be further increased by storing a factor map (map overlay) in the background. The GreenSeeker then uses this map not only to identify the current state of the crop, but also to take into account the varying yield potential within the field, which cannot be detected by a sensor. NEXT GreenSeeker uses this information to control the specific spreading implement using your defined strategy, incl. minimum and maximum rates.
Farmers, as well as all the scientific studies and trials to date, consistently confirm that using NEXT GreenSeeker significantly increases yields and quality, reduces costs and protects the environment in addition.
Fertiliser and growth regulator doses are optimised through site-specific application
Costs are reduced and the environment is protected
Determines the use of crop protection and fertiliser products as well as minimum and maximum rates
For rapeseed: The nutrient requirement is calculated by mapping before the vegetative rest period
Can be used at each stage of the crop types
More cost-effective than other active systems
Interfaces with all adjustable fertiliser spreaders, sprayers and other spreading equipment
Fully compatible due to manufacturer-independent connection to on-board computers via ISOBUS
Map overlay option
Variable number of sensor heads (2 or 4) enables it to be used for different purposes
Attach the sensor heads (2, 4 or 6) directly onto the fertiliser spreader or sprayer
Dynamic calibration during transit
Active system with its own light source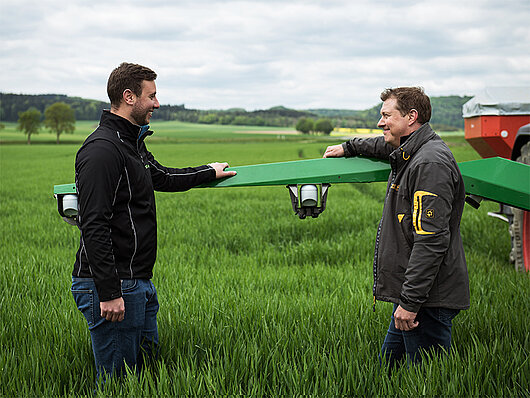 Updates to NEXT GreenSeeker
Boom takes loads of 500–1200 kg
Complies with German Fertiliser Application Ordinance (DüV) specifications and quantities
NEXT GreenSeeker online
NEXT GreenSeeker ISO international (available in German, English, French, Latvian, Lithuanian, Dutch, Polish, Serbian, Czech, Hungarian and Russian)
Fully ISOBUS-compatible due to VT/TC functionality
Connection to ISOBUS terminals via InCab
Direct control of ISOBUS implements such as fertiliser spreaders, plant protection sprayers, seed drills and slurry tankers
Option to control non-ISOBUS implements
Left and right side can be activated separately (fertiliser spreader/plant protection sprayer)
For rapeseed: The nutrient requirement is calculated by mapping before the vegetative rest period
Dynamic calibration during transit
Support for peer control standard
Site-specific farming with NEXT Farming
Use TalkingFields (TF) maps along with sensor technology from NEXT GreenSeeker by
NEXT Farming to optimise the use of inputs on your fields
Scarcely any plot of land is homogeneous and offers the same yield potential throughout. Divergent soil characteristics and having to meet ever stricter statutory requirements is challenging for farmers.
NEXT Farming provides the best solutions for site-specific farming in the form of TalkingFields (TF) maps and sensor technology from NEXT GreenSeeker. This also shows in practice. In a joint project, winter wheat was fertilised with nitrogen site-specifically and both systems achieved definite additional yields as well as slightly higher protein contents compared to similar fertilisation systems at the Quarnbek site. NEXT GreenSeeker in particular stood out for its definite increase in yield while spreading a minimal amount of nitrogen (Rückleben, Fachhochschule Kiel, Getreidemagazin 1/2019 (25th year)). The results prove that With NEXT Farming, you not only save on costs and ensure higher yields, you also meet the German Fertiliser Application Ordinance (DüV) requirements at the same time.
The Talking Fields maps (TF) and NEXT GreenSeeker in practice
Version

Trial location

Constant

NEXT GreenSeeker

Other sensor manufacturers

TalkingFields

Quarnbek, Germany

Yield [dt/ha]
104.90
111.03
105.32
109.61
Protein content [%]
11.17
12.25
11.52
12.18
Nitrogen application rate [kg N/ha]
278.90
273.61
302.38
297.87
Nitrogen balance [kg N/ha]
94.58
7056
120.56
98.71
(Source: Own illustration based on Reckleben, Fachhochschule Kiel, Getreidemagazin 1/2019 (25th year))
Would you like to find out more about NEXT GreenSeeker?
We are happy to offer you personalised advice, tailored to your requirements and needs. Simply fill in the enquiry form and a local agent will be in contact with you soon.
The boxes marked * are compulsory