Digital farming in practice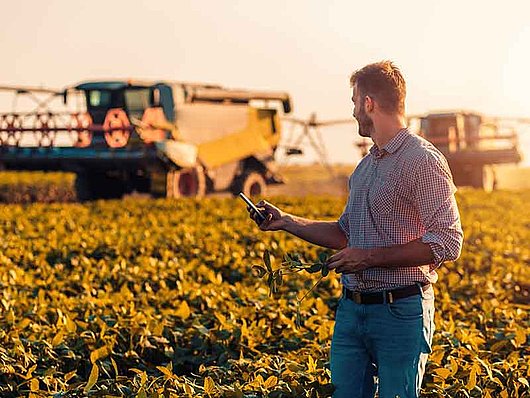 The Wackersdorf region still means something to many Germans. A few decades ago there were major protests by opponents of nuclear power in this region against a planned fuel reprocessing plant in the Taxölden Forest. In the middle of this region which has long been "reconciled", a small, "smart" agricultural contractor has repositioned himself in recent years. Quality not quantity should make his business future-proof. We visited Johannes Gleixner in Bodenwöhr.
Now 34, Johannes Gleixner has already had 15 years of experience in the area of "inter-company services". His father, with the support of his neighbours and with some other services, had already laid the foundations for the small company. Today the agricultural contracting company works as an individual business unit in parallel to the farm. Johannes Gleixner offers high-quality combine harvesting and round baling services, including the provision of a bale wrapping machine, as well as sowing, soil cultivation and professional plant protection on a small scale. On his own farm he primarily cultivates fodder cereals, grassland and potatoes. He also currently fattens pigs and is considering adding a new fattening barn next year.
The farmer and contractor started using agricultural software several years ago. The software had to be able to map both the farm's own processes and those of the contracting company. The choice fell on the Agrar Office LU farm management system from FarmFacts, as it was known at that time. Today, after being integrated into the NEXT Farming World", the same software is available under the name, NEXT Agricultural Contractor Office.
"This software offers me the solutions I need for professional input planning, fleet control, associated use logs and digital delivery notes. It also contains a modern module for my invoicing," says Johannes Gleixner, explaining his decision. "It is particularly important for me to be able to manage mixed fleets digitally. With NEXT Farming I can do this without a problem," adds the farmer.
"In addition, my programme also covers all other functions on my farm. This now includes a professional, extensive field card index, comprehensive machine interfaces and further module options. In the future for example GIS data and geodata options will become increasingly important. Both as a service for my customers and for my own farm, I can work with software that I am familiar and comfortable with," adds the agricultural contractor.
"It is particularly important for me to be able to manage mixed fleets digitally. With NEXT Farming I can do this without a problem."
Currently, around 20 - 25% of the customer's agricultural land is "delivered" digitally to Johannes Gleixner. In most cases he uses the IBALIS database for this. "In spring, in the presence of the customer and using their code, I access the network and download all the relevant data about their farm onto my computer. At the same time we also discuss the conditions of the assignment and the next steps," explains the contractor.
"After the harvest I offer my customer the chance to view my maps for a few selected areas free of charge." says Gleixner. Later on he would like to charge his customers for this service as well. Already last year he saw there was a demand for data services from some customers.
The field card index applications have since become extremely efficient. Mixed farms, that develop a high proportion of their added value in their barn, are usually unable to use the full range of functions. This is something that Johannes Gleixner experiences regularly. Often using such applications for farms like this often seems more complicated than it actually is. "It is often just a question of working with these tools regularly," says Gleixner. That is why he sees a gap in the market here. In the future he plans to offer additional services as a service provider. These services may include geodata services, the provision of digital machine use logs and zone management support. Professional software is indispensable for the efficiency increase that this requires.
Many of these measures that he performs for the customer will in the future be invoiced more and more on the basis of digital delivery notes. This way his customers have both a clear and understandable invoice and the documentation that they need for their records and field card index.
One of the reasons why Johannes Gleixner works on ideas such as these is because he has a cutting-edge machine fleet that is compatible with all software programmes. Recording securely and fully automatically, creating use logs and easily handling the necessary data transfer: everything that is important for modern farm management, both for the farmer and the agricultural contractor. This means that the office work for data acquisition and data assignment to the fields concerned is easily manageable. The same goes for the vehicle fleet, according the contractor.
"When I notice that the size of my pig farm has almost doubled, then you can see that an increase in efficiency, both for the agricultural contractors and your own farm, is extremely important. I can only achieve this through the use of modern, sufficiently comprehensive and, above all, future-proof software," stresses the progressive farmer.
We wish Mr Gleixner lots of success and would like to thank him for this interesting, open discussion.