Synergies, cross-selling and custom solutions
What's more, we offer you the opportunity to enhance your own portfolio through the addition of our products. For instance, you could increase your fertiliser sales quite easily through a connection with NEXT Fertilisation – it's completely up to you whether you create a complementary service proposition out of it or let your customers do the calculation for themselves. Or you could become a trailblazer and offer a site-specific spreading service along with your seed.
Already have an idea of what you would like to offer your customers in terms of digitalisation?
That's great! We are open to all new ideas and are happy to work with you to create the best solution for your customers.
Find out more about the opportunities we offer now:
The boxes marked * are compulsory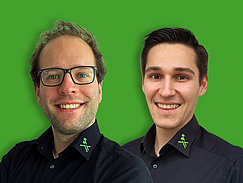 Alexander Wiener and
Stefan Zischler
Key Account Management