Synergies, cross-selling and custom solutions
We offer you the opportunity to enhance your own portfolio through the addition of our products. Many of our features and modules are only come into their own when they're used with the right equipment. The best prescription map won't work without a top-class fertiliser spreader, and the reverse isn't much easier. Many farmers only utilise a fraction of their equipment's full potential. Let's work together to help your customers farm even more successfully. Whether you're working on waylines (guidance tracks) or field contour conversions for tractors, with NEXT Farming you're creating enticing prospects for high-quality farm machinery – regardless of the manufacturer.
Already have an idea of what you would like to offer your customers in terms of digitalisation?
That's great! We are open to all new ideas and are happy to work with you to create the best solution for your customers.
Find out more about the opportunities we offer now:
The boxes marked * are compulsory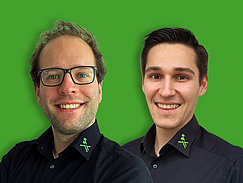 Alexander Wiener and
Stefan Zischler
Key Account Management